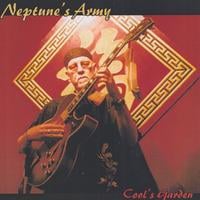 I was taking a constitutional from my place in Vollentine-Evergreen toward Overton Park and decided to walk by Fresh Slices, a small neighborhood bar & grill in a small strip commercial center. Back then, they had live jazz regularly, and I heard some coming out of the bar; so I stepped inside. There was my old bud
Ed Finney
playing his Gibson L-5 with bass and drums. I sat on a barstool, and when the number ended, I said, "That sounded like
'Creator Has A Master Plan'
." The bass player said, "That's what it was." Duh, LOL. Some months ago, one of my regular readers requested that same number, and I had no idea she was that hip. So here it is, what has become one of the great modern jazz classics.
Let's start with a regrettably short video of the master and co-composer himself,
Pharoah Sanders
, blowing a few notes of this great tune:
Oh man, that wonderful
ostinato
riff and the vibe Pharoah got from playing with John Coltrane and taking it to his own awesome place! Click on some of the related videos for more or just hit this
search link
.
Now let's dig a version by co-composer Leon Thomas that focuses on his lyrics and vocal: